Committed to Eco-Friendly Initiatives
IT'S COOLER GOING GREEN
At Igloo, our lasting impact should be on your enjoyment, not on the planet. So, we're taking big steps to become the most environmentally friendly cooler company on Earth.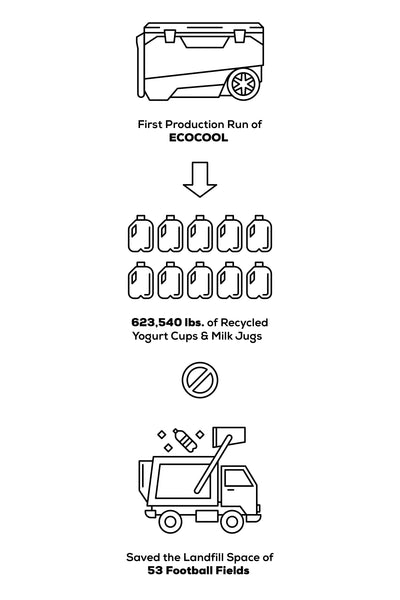 THE WORLD'S FIRST HARDSIDE COOLERS MADE WITH RECYCLED PLASTIC
With our ECOCOOL® collection we're headed down even greener pastures (and with our ECOCOOL Trailmate, we're doing it on all-terrain wheels!). This cooler collection is the first of its kind to be made with recycled resin. That means we're taking post-consumer plastic — mostly discarded plastic yogurt cups and milk jugs — that would otherwise end up in landfills throughout the world and transforming it into a recycled resin used in the outside body, liner and lid of our ECOCOOL coolers, all made at our facility in the USA.
ECOCOOL IS GROWING INTO SUSTAINABLE SOFTSIDES
Repurposed, renewable, recycled, recyclable. All the good-for-Earth design elements are in our newly sprouted ECOCOOL softside cooler bags — crafted with recycled plastic, repurposed algae and other super cool recyclable features.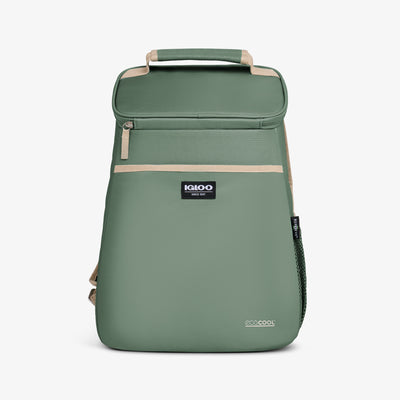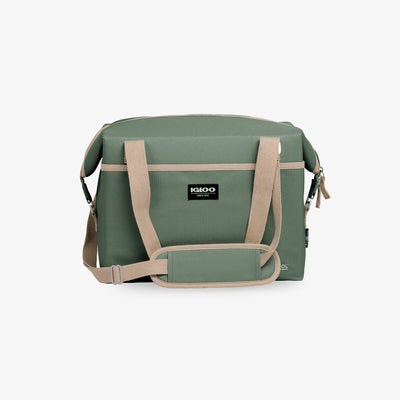 Get Out There!
THE IGLOO X PARKS PROJECT ECOCOOL® PLAYMATES
Playmate coolers and national parks have always played well together. And the proof is in our fully grown Parks Project ECOCOOL collection.
Shop Now
COOLERS THAT MAKE EARTH HAPPY
We're continuously growing our collection of coolers to be more sustainable through the use of different (and really awesome) innovations, like repurposing tossed-out plastic into new materials. By utilizing recycled plastic in our production, we're significantly cutting back on greenhouse gas emissions and saving up to 88% of energy compared to utilizing virgin plastics.
ECOCOOL® Softsides
OUR MOST ECO-FRIENDLY COOLER BAGS
We crafted our ECOCOOL cooler bags with recycled plastic bottles, repurposed algae, recyclable aluminum hardware and natural hemp trims. The insulation is also made with repurposed algae and the easy-to-clean, leak-resistant PEVA liner is recyclable. All the bag styles are compact enough with easy-carry straps — so you can go practically anywhere — while maintaining a spacious, insulated interior that chills enough refreshments for your day.
Shop ECOCOOL
Packable Puffer
THE RECYCLED COOLER THAT PACKS INTO ITS OWN POCKET
Our lightweight Packable Puffer cooler bags are made with recycled plastic bottles from the inside out: PrimaLoft® insulation + REPREVE® exterior. With a fully scrunchable, compressible construction, this genius cooler design folds into its own front pocket for ultimate packability.
Shop Packable Puffer
RECOOL®
THE FAN-FAVORITE BIODEGRADABLE COOLER
100% biodegradable, compostable and recyclable, RECOOL helps eliminate the need for those harmful, single-use polystyrene foam coolers that had once been so commonplace. Since we released RECOOL in 2019, it's gone on to receive eight innovation awards, and with 1 million sold to date, that's a million less squeaky foam coolers polluting our environment.
Shop Now
Learn More
MAKING GREAT PROGRESS WITH ECO INNOVATIONS
BETTER-FOR-THE-PLANET THERMECOOL™ INSULATION
100% of the hardside coolers we manufacture in the USA include THERMECOOL insulation. This innovative foam lowers CO2 and VOC emissions making it 50 times better for the planet than the law requires (compared to traditional foam insulation) while still providing advanced ice retention. With THERMECOOL, we're lowering our environmental impact while creating coolers that can last a lifetime.
86K
Saves the CO2 equivalent of taking 86,000 cars off the road
37K
Replaces the CO2 equivalent of the power needed to run 37,000 homes
152M
CO2 converted by 152 million acres of trees
Shop Now
BLOOM™ Rise Technology
REPURPOSING ALGAE INTO SOMETHING MUCH COOLER
Our ECOCOOL Softside coolers are among the first of its kind to be made with BLOOM Rise insulation, an innovative, durable material made from repurposed algae and recycled EVA.

The process goes like this: Wet algae is harvested and squeezed into a paste. Using heat, the algae paste is dried to produce crunchy flakes. BLOOM's proprietary processes are used to refine algae flakes into unique blends of green powder. Then, the algae powders are blended with polymers to produce the BLOOM materials in our ECOCOOL cooler bags!

The creation of this renewable and restorative material with BLOOM aids in the removal of over-abundant and harmful algae from ecosystems around the world resulting in clean and oxygenated water, along with cleaner air, being restored to the environment.
Shop Coolers With BLOOM
REPREVE® Recycled Performance Fiber
FEEL GOOD ABOUT HOW YOU COOL
REPREVE is the leading, most trusted branded performance fiber made from recycled materials.

The process: Used plastic bottles are recycled, washed and chopped into flakes. The flakes are then melted and formed into a chip. From there, the chip is transformed into recycled yarn used in the exterior material of our REPREVE softside coolers.

Each of our REPREVE coolers repurposes 1–19 plastic bottles that would've otherwise ended up in the landfill or ocean.

REPREVE fibers are traceable and certified, so we can easily track where our raw materials come from and guarantee accurate reporting.
Shop Coolers With REPREVE
PrimaLoft® Recycled Content
LIGHTWEIGHT INSULATION. LIGHTER IMPACT.
PrimaLoft Gold is a high-performance, synthetic insulation that's lightweight, durable, compressible and made with 90% recycled content.

PrimaLoft insulation is created by diverting plastic bottles from landfills, then cleaning and shredding the bottles into chips and transforming the chips into PrimaLoft fibers.

Our cooler bags featuring PrimaLoft Gold Insulation are easily scrunchable, making them easy to pack away when you're not using them.
Shop Coolers With PrimaLoft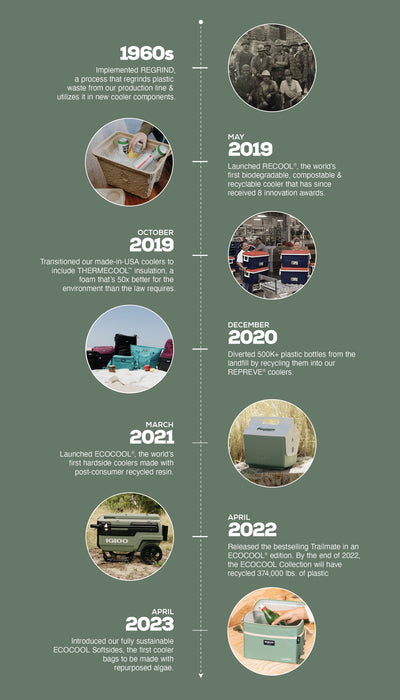 OUR ECO JOURNEY
We've made great strides in our mission to become the most environmentally friendly cooler company on Earth — below is a snapshot of what we've accomplished so far.